Hunting Late Season Black Bears
With warm weather, lots of food and the rut coming up, now is the time to tag your bear!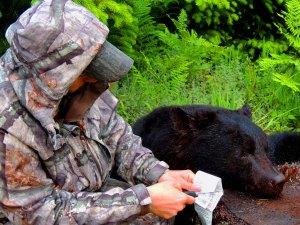 Black bear hunting throughout the West is in full-swing. The great news for Pacific Northwest tag holders is that conditions are primed for big, mature bears to be even more active in the coming weeks making frequent appearances on mountain ridges and coastal swamps. Food is plentiful, and with the breeding season coming up, now is the time to be afield.

Breeding Bear Movements: Boars will readily be seeking out sows in late May. They will travel several miles to breed and maintain their territories. According to ODFW biologist Nicholas Leonetti at the Newport, Oregon office, "It is possible that bears could breed earlier in years such as this. It depends on when the sow came out of the den and how healthy she is. Typically a sow's reproductive tract does not start preparing for estrus until March and won't be ready to be bred until May (if she does not have cubs of the year). Since some sows were probably active early this year, it could cause them to begin the cycle early." Normally bears will breed between late May and early August but the peak is the middle of June to mid of July. This should be quite exciting for hunters as bruins will be roaming the woods often times traveling several miles in search of a sow in estrus. Of course, the distance a boar travels greatly depends on the number of sows in estrus within his territory. "Timing is about 3-4 weeks ahead of normal, so earlier May could be a likely bet this year for bears to begin breeding," says Leonetti.
Breeding boars will remain with a sow in estrus for several days breeding numerous times before seeking out a new mate. Mature males will breed with several females throughout the season. "One boar we ear tagged while doing research in the southern Cascades traveled over 20 air miles from where we caught him during breeding season to where he was killed during the fall season. I can't say that was all from movements during breeding season though since we did not have a radio collar on him," adds Leonetti.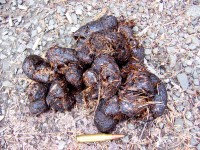 Sows need to have a healthy body weight in order to activate their breeding cycle. They can be found feeding on grassy slopes, early berries, succulent marsh greens such as skunk cabbage and sword ferns. Deer fawns, elk calves and carrion are also spring favorites. Food sources and openings along steep canyons are where you will find bears this month. They will be moving at all hours but mainly from dawn until mid-morning and from about 3pm until dusk. Often times they will take a siesta during the middle of the day in the sun to rest and recoup from their ravenous feeding and breeding activities.

Travel Patterns: Later in the season bears will move to higher country once the forage begins to dry out. The high country will hold onto fresh grass and other foliage longer. These are also places where they can root through old logs and turn over rocks in search of insects and grubs. Walking old logging roads is not only an excellent hunting tactic but it is also a popular way for bruins to travel and search for other bears. In thick coastal locations this is a great tactic as is setting up and waiting near a location with good food and water. Ridge lines and thick re-prod with small openings are great places to watch and glass for bear movement. These places are where they travel, search for food and smell other bears. Setting up with a spotting scope and waiting is one of a hunters best bets during the late season. Leonetti also points out, "If this spring stays warm and mildly wet like we have seen so far it should be great for bear hunters. With the longer days and great growing conditions bears should be very active come May. As long as it does not get too hot and dry, the bears should be out taking advantage of the abundant green up."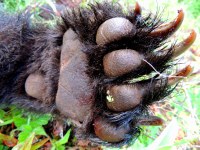 Tactics for Success: My cousin and I have had the most success behind a set of field glasses and spotting scope. It's a great way to dissect parcels of forest and clear-cuts. We also search logging roads for bear scat and look for locations to set up and watch or use predator calls such as rabbit squeals, calf elk and fawn in distress bleats. These seem to work best in locations surrounded by heavier cover. Gary Lewis and Lee Van Tassell authors of "Black Bear Hunting Expert Strategies for Success" remind hunters that late spring is when bears will feed on helpless young ungulates. They are quick to add that bears will constantly be on the move and can cover a lot of ground in a hurry but will usually stay in the same general areas for most of a single day.

Some of the most important things for consistent success on bruins are: 1) Scent control: Hunters tend to overlook cover scents and scent eliminators during bear season. One of the biggest defenses a bear has is its ability to smell and detect food or danger. 2) Patience: Hunters with just about any game tend to call it quits too early. Find a comfortable location and wait a fair amount of time. This is crucial especially during prime hours of movement. 3) Mix it up: If you have been glassing for a couple days without success go for a hike, set-up and do some distress calling. Check out new areas and explore a bit. 4) Go where few have: Late in the season look to locations away from roads or well used trails. Bears will be drawn to these isolated zones. 5) Remain optimistic: For me it seems that often times I see bears when I least expect it. They are quiet and shy for the most part. Try to keep that in mind while pursuing them.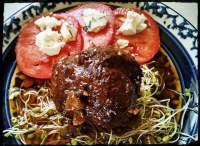 Spicy Italian BBQ Bear Sausage Meatballs
, by Troy Rodakowski
1 lb. Ground Italian bear sausage (hot or mild)
1 bottle favorite BBQ Sauce
1 cup chopped or minced fresh garlic
½ Onion diced
1 tbsp black pepper
1 tbsp salt
Tabasco sauce to flavor
½ cup brown sugar
Form 3-4 large sized meatballs with ground. Pan sear in olive oil. Place into crock pot on low add all above ingredients and cook for 6-7 hours. Remove meat, place on a bet of fresh sprouts, veggies, noodles or rice. Slice fresh tomatoes and top with herb infused Gorgonzola cheese.
Products used in this article
SWAROVSKI EL Range Rangefinding Binoculars - Clear

SWAROVSKI EL Range Rangefinding Binoculars - Clear

Only $3249


Purchasing through OutdoorsNow.com gets you a cash rebate of 3% on this product.



Look and range within seconds with the EL Range Rangefinding Binoculars from Swarovski. The legendary optical performance you expect from Swarovski combined with rangefinding precision has a new, ergonomic design for even better handling in the field. Inside the durable, lightweight magnesium-alloy ...

| | |
| --- | --- |
| Cash Rebate 3% | |
Swarovski ATX/STX Modular Spotting Scope-Ocular Lens

Swarovski ATX/STX Modular Spotting Scope-Ocular Lens

Only $2369


Purchasing through OutdoorsNow.com gets you a cash rebate of 3% on this product.



With a reputation for precision, sharpness and world-class clarity, Austrias Swarovski has been a fixture of optical creations since 1949. Swarovskis Modular Spotting Scope Ocular attaches to your Swarovski Modular Spotting Scope and combines the eyepiece, prism system and zoom into one compact pack...

| | |
| --- | --- |
| Cash Rebate 3% | |
Swarovski ATX/STX Modular Spotting Scope-Objective Lens

Swarovski ATX/STX Modular Spotting Scope-Objective Lens

Only $2059


Purchasing through OutdoorsNow.com gets you a cash rebate of 3% on this product.



This lightweight, reliable spotting scope combines superior performance with innovative versatility. HD lenses deliver outstanding detail and amazing color reproduction. The slim, ergonomic design has a durable magnesium housing with protective, noise-absorbing rubber armor to deliver reliable all-w...

| | |
| --- | --- |
| Cash Rebate 3% | |
Swarovski CT Travel Carbon Tripod with DH 101 Tripod Head

Swarovski CT Travel Carbon Tripod with DH 101 Tripod Head

Only $839


Purchasing through OutdoorsNow.com gets you a cash rebate of 3% on this product.



Match the elite optical performance of your high-end spotting scope with the stable foundation of this compact, lightweight tripod that's ideally suited for your travels. Exceptional positional stability prevents even the smallest movements while long-range observing and digiscoping. Fast Mount Syst...

| | |
| --- | --- |
| Cash Rebate 3% | |
Vanguard Endeavor XF Spotting Scope - Clear

Vanguard Endeavor XF Spotting Scope - Clear

Only $299.99


Purchasing through OutdoorsNow.com gets you a cash rebate of 3% on this product.



From the hobby bird watcher to serious big game hunters the Vanguard Endeavor XF spotting scope provides crystal clear images and powerful magnification for seeing the detail of small objects or pulling distant ones close. Phase-coated BaK4 roof prism delivers optimal light transmission for ultrasha...

| | |
| --- | --- |
| Cash Rebate 3% | |
BOGgear Bog-Pod Super Steady Combo

BOGgear Bog-Pod Super Steady Combo

Only $149.99


Purchasing through OutdoorsNow.com gets you a cash rebate of 3% on this product.



Shoot with a confident, steady hand using the BOGgear Bog-Pod Super-Steady Combo. Easily set up the RLD 3 tripod using the rapid-adjust twist locks that loosen or tighten legs with a couple of turns. Use while sitting, kneeling or standing. Removable rubber feet reveal carbide tips for a secure grip...

| | |
| --- | --- |
| Cash Rebate 3% | |
Outdoor Edge Wild Pak Game Processing Kit - Blaze Orange

Outdoor Edge Wild Pak Game Processing Kit - Blaze Orange

Only $49.99


Purchasing through OutdoorsNow.com gets you a cash rebate of 3% on this product.



Take care of game all the way from the field to your freezer with the Outdoor Edge Wild-Pak Game Processing Kit. Lightweight set consists of eight pieces in one hard-side carrying case full-tang caping knife, gut-hook skinner, boning knife, carbide sharpener, wood/bone saw, ribcage spreader and game...

| | |
| --- | --- |
| Cash Rebate 3% | |
LoopRope Tie-Down - Camo (5FT BLAZE)

LoopRope Tie-Down - Camo (5FT BLAZE)

Only $15.99


Purchasing through OutdoorsNow.com gets you a cash rebate of 3% on this product.



Secure loose items on your ATV, UTV or in your truck using one of the most versatile fastening systems available. Unlike bungee cords, the LoopRope never tangles and has several attachment points, reducing the risk of snap back. One three or five ft. fastening system gives you 10 custom tie-down len...

| | |
| --- | --- |
| Cash Rebate 3% | |
Kershaw Chill Locking Folder Knife

Kershaw Chill Locking Folder Knife

Only $29.99


Purchasing through OutdoorsNow.com gets you a cash rebate of 3% on this product.



Aptly named, this folder features clean lines and cool peformance. Designed by RJ Martin, it features a finely honed matte-finished blade, an ambidextrous flipperfor easy one-hand opening and a CNC-machined G-10 handle. Pocket clip. Imported. Overall length: 7. Closed length: 3-7/8. Weight: 2 oz.

| | |
| --- | --- |
| Cash Rebate 3% | |
ThermaCell Olive Drab Appliance with One Refill Kit Combo

ThermaCell Olive Drab Appliance with One Refill Kit Combo

Only $34.99


Purchasing through OutdoorsNow.com gets you a cash rebate of 3% on this product.



Use this combo to keep the most annoying insects away! And when the ThermaCELL Olive Drab Appliance runs out of bug-banishing power, fill it back up with the Refill Kit. If citronella candles and other old-fashioned methods for keeping mosquitoes away just arent working for you, fire up the ThermaCE...

| | |
| --- | --- |
| Cash Rebate 3% | |
ThermaCell Portable Appliance Holster - Realtree AP, Olive Green

ThermaCell Portable Appliance Holster - Realtree AP, Olive Green

Only $12.99


Purchasing through OutdoorsNow.com gets you a cash rebate of 3% on this product.



A convenient, hands-free way to transport your ThermaCELL unit while providing extra storage for fuel cartridges and repellent mats. Its handy clip-on system allows you to secure your repellent unit to a branch, boat, ATV, stand, blind, backpack or belt. You can easily change the cartridge or mat wi...

| | |
| --- | --- |
| Cash Rebate 3% | |
LED Lenser H7 Headlamp

LED Lenser H7 Headlamp

Only $59.99


Purchasing through OutdoorsNow.com gets you a cash rebate of 3% on this product.



Pros are thrilled with LED Lenser's H7 headlamp because of its light weight, easy-to-wear feeling and extremely bright output of 155 lumens. Near-to-far focusing options with the Advanced Focus System are possible because of a patented combination of a reflector and lens to create a light system tha...

| | |
| --- | --- |
| Cash Rebate 3% | |
Cabela's Alaskan Outfitter Frame and Harness Only - Blaze Orange

Cabela's Alaskan Outfitter Frame and Harness Only - Blaze Orange

Only $144.99


Purchasing through OutdoorsNow.com gets you a cash rebate of 3% on this product.



For hauling meat out of the backcountry nothing beats a strong pack frame and the Alaskan Outfitter is specifically designed to handle the toughest of tasks. We also added the ultimate adjustable suspension system with a padded hip belt and shoulder straps, much like you would expect to find on more...

| | |
| --- | --- |
| Cash Rebate 3% | |
Alaska Game Bags

Alaska Game Bags

Only $14.99


Purchasing through OutdoorsNow.com gets you a cash rebate of 3% on this product.



These heavy-duty, form-fitting bags protect meat against insects, dirt and harsh weather. Theyre virtually tear-resistant, extremely breathable and odor-free. Available: Quarter Bags: 48L, and stretches up to 30W. 4 per package. Economy Game Bag: 72 L. 1 per package. Northern Transport Bag: 50L x 30...

| | |
| --- | --- |
| Cash Rebate 3% | |
Field Dressing Skinning and Caping Big Game DVD

Field Dressing Skinning and Caping Big Game DVD

Only $20


Purchasing through OutdoorsNow.com gets you a cash rebate of 5% on this product.



Field Dressing, Skinning and Caping Big Game is a comprehensive DVD offering more than two hours of insightful knowledge on the how-to aspects of proper field care.

| | |
| --- | --- |
| Cash Rebate 5% | |
Cooking Big Game

Cooking Big Game

Only $19.95


Purchasing through OutdoorsNow.com gets you a cash rebate of 5% on this product.



Ginger Coconut Venison, Cajun Smothered Pork, Orange-Soy Jerky, Planked Bear & Onions; these are just a sampling of the more than 100 classic and imaginative recipes found in this exciting book. Thanks to the subsistence lifestyle they led in Alaska, and their adventures abroad, the Haugen's have ...

| | |
| --- | --- |
| Cash Rebate 5% | |