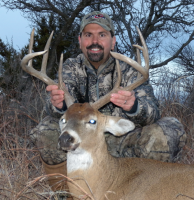 There is something truly special when you hear somebody mutter the words "deer camp". It either brings back memories of hunting seasons past or gets a person excited about what is to come.
It had been some time since I have been in a deer camp. Years actually, so when my father and good friend Carl Holly invited me to their West Texas deer camp, I was pretty excited to say the least.
West Texas is nice in December and the 22,000 acres we had to play on would be a great change from the cold and ice I had been experiencing while living and teaching school in Arctic Alaska.
The hunt was planned for the day after Christmas, when I'd be in the Lower 48 for winter break. We were to spend four days chasing whitetails, hogs and turkeys. We would also get to stay at deer camp central, a state of the art cabin located off an old dirt road close to where many of the blinds and stands were situated.
December 26th finally arrived and at 4:30 A.M. we loaded the truck and headed west. The seven-hour trip from my parents home in Oklahoma may seem like a long one, but with an early morning departure and the anticipation of being in a stand that afternoon, time flew by. Knowing that soon you'll be high above the ground overlooking the cedar and Mesquite choked landscape in hopes of connecting on a big bruiser buck is almost too much.
We arrived at the cabin early that afternoon, unloaded our gear, claimed our sleeping spots and then headed to the blind. Deer camp is not only about the hunting, but also about having a good time and spending it with friends and family. Besides Carl and my Dad, my young nephew, Tyler, was with us. Tyler had never connected on a buck, so the anticipation was high.
That afternoon in the stand found me staring at four cows. Now, as with most ranches in Texas, this one had livestock roaming the place right along with everything else. Being my first trip to Texas I figured it was just part of the deal, but I knew that the deer probably wouldn't come in, based on past experience.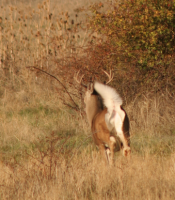 As the cows grazed I got the funny feeling that something was watching me from behind. Not knowing what it was I grabbed my bow and slowly turned around only to see a big buck looking directly at me. Instantly I was busted. He had come off a ridge and was working his way down into the hole where the stand was located. Being at the same eye level he caught me moving. He stood dead still just staring at me, the only thing I had going for me was the wind. It was in my face and the buck wasn't sure what was going on. Not alarmed he slowly turned and walked away. I felt I would be back.

The next morning brought super cold temperatures and I decided to swap the bow for the rifle and hunt out of a box blind that was close to the stand from the day before. The rut was just finishing up and I hoped the buck would be back to check the area for does. It was cold and the clear night sky had the thermometer at nine degrees. With no heater in the box blind I was freezing. Dressed for the extreme you would think a guy from Alaska could handle it, but I was shaking uncontrollably.

As the first signs of light, my eye caught movement from a ridge on the left side of the blind; it was the same buck from the evening before. He was two hundred yards off looking directly at the stand I was in the previous day. Through the Leicas I could see he was a super deer, with a typical 10-point frame, great G-2's and wide. I brought the rifle up and tried to find him in the scope, but with me shivering and the pre-dawn dusk it was tough. When I finally settled down and found him through the Leupold he was facing me–no shot. I knew he would have to move and I would have to steady myself to make this work. The last thing I wanted to do was a wound a deer of this caliber, but the buck never did give me a chance, and as soon as I thought he might turn he was gone…a
gain.

The day was not wasted though, the buck had no clue I was there and if all went well he would proba
bly be back again. The biggest plus that morning was that my nephew, Tyler, took a great deer. This was Tyler's first good buck, a very symmetrical 9-point taken with the .270 that I had given him for Christmas. Tyler has really gotten into hunting since then, and I'm very proud of him. Carl also connected on a great deer, a super wide 9-point from another blind not far away. All in all, it was a great morning in Texas.

That afternoon we decided to give my stand a rest and go to the other side of the lease and hunt the sand pit. The sand pit is located next to a river choked full of cedars and mesquite thickets, a big buck paradise. A tripod stand placed on a hill, overlooks the area where a hunter can see the whole river bottom. When I climbed up to check it out I could tell it was a great stand and I had high hopes, but my mind was still with the deer I had encountered earlier.

All day I looked forward to getting back in the stand, but I was also looking forward to the "down time" during the day. Between the morning and afternoon hunts we climbed into Carl's monster Suburban, with a high seat on the roof and cruised the ranch looking for hogs. I have done his before in Africa, but I never knew how much fun it really was until my first trip to Texas. This was also one of my Dad's favorite parts of the hunt, as he is truly infected with the hog "disease".

After a fun filled day we were back in the stands that afternoon. The sand pit was quiet and the west Texas wind was hitting me on the back of the neck, something that had me concerned. But with the coming evening I figured it would settle and the action would pick-up. As the sun started to dip and the wind dissipated, deer started to appear. Several does were working to my left and it was fun watching them feed closer and closer.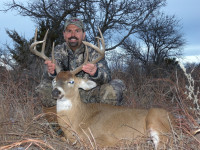 While I was caught up watching them I wasn't paying much attention to everything else. When I turned around to look in front of me there he was, a good buck about 200 yards off feeding in my direction. I quickly had a look and could see he was a shooter. I inched the rifle up, got a good rest and found him in the scope. I never felt the recoil of the rifle, but the deer went straight up at the shot. I quickly watched as the deer rand toward the cedars. I thought the shot was good and it proved so as I saw the buck fall.
When I got to the place where the deer stood when I shot, I immediately found blood. After a short walk there he was. People talk about ground shrinkage, but this wasn't the case. He was tall with a big frame and nine points. A great first Texas whitetail.
The lease we were on is located in two counties. By law and with the right tags a person can take a buck in each county. Lucky for me the sand pit was located in one county while the first stand I hunted was in another. So, the next day, which was our final day in camp, I grabbed my rifle and decided to go back to the stand where the big buck had eluded me two times before. This time however things would hopefully be different.
I could hear deer long before I could see them, working their way here and there through the thick mesquite brush. I prayed for an early sunrise or at least enough legal light to see. As forms started to appear below me I could see what I thought was the buck that I had encountered. A big frame and long tines, it had to be him. The problem was he was directly below me at 60 yards and the small window in the blind wouldn't allow me to get the right angle. He would have to move. With daylight creeping in and finally being legal light I got a good look at him. My heart sank somewhat as this was not the buck I had seen earlier, but he was still a good buck.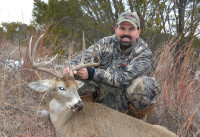 I carefully waited for him to move towards cover and when he did I knew I had to be ready. He was walking directly away from me, so I made a doe grunt. He turned and gave me a broadside look. The scope found his shoulder and I squeezed the trigger. The buck bolted and went over a hill with his tail between his legs. After a long walk up and over the hill, following a pretty thin blood trail, I saw the buck piled-up under a cedar tree. Not quite as big as my first deer, but another nice 9-point that I was very proud to call mine.
Texas is truly a remarkable place when it comes to whitetail deer hunting. We had such a great time hunting together, hanging out at the cabin and telling stories around the campfire; it's what deer camp is all about. We all took great deer and even though Dad didn't find a hog, he loved every minute of it. Deer camps in Texas are special and I cannot wait to get back one day, this time with my son, Eli when comes of age.