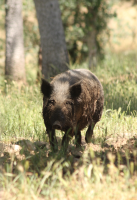 I hate alarm clocks, always have, and setting one to ring at 3:15 in the morning is worse than having a nightmare. I did hear it go off, but ignored it and went back to sleep. The next 45 minutes seemed like five and I awoke to somebody pounding on our Oklahoma door. It was my father, arriving for our 4:00 A.M. take off time.

We were heading to West Texas for a short two-day mixed bag hunt. We had been planning the hunt since July and the day had finally arrived. We would be hunting with our good friend Carl Holley, who works with my father. He's a great guy who loves hunting, and it didn't take me long to accept his invitation to his west Texas lease to hunt whitetails, turkey and wild hogs.

I quickly got dressed and soon we were making the seven hour drive. Living and hunting in Alaska for the last several years has given me no time to pursue hogs or whitetails as I did in my younger days and the thought of actually getting to climb a treestand was almost too much for me to handle. 
We arrived in Texas that afternoon, greeted by sunny skies and windy conditions; quite the contrast to the blowing snow and sub zero temperatures I left back in Alaska. After quickly setting camp we got into our camo and hit the ranch. It reminded me of my days in Africa, with scattered Mesquite and rolling flats reminisce of chasing kudu and gemsbok on the Dark Continent.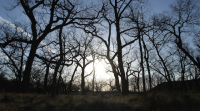 That afternoon my nephew, Tyler, and I climbed on top of the suburban and bounced our way across the ranch. As we cruised the deep sand roads and sage flats we immediately saw game. Mule deer, whitetails, and turkeys seemed to appear behind every Mesquite tree, along with beef cows of every color. This was a true cattle ranch, 22,500 acres of low fence, fair-chase hunting.

The next three days flew buy. We hunted every morning and every evening and saw loads of animals. Tyler was lucky enough to take a couple of does and a pretty good hog, while my Dad got a turkey and a great eating size boar. As for myself, I had yet to score.

On the last evening of the hunt, Carl put me in a stand where he had seen some deer and hogs the evening prior. I got to the stand early only to find two small bucks feeding in the area. I quietly tiptoed to the stand without spooking the bucks and sat down in the tripod. I sat there for two hours anticipating that at any minute a hog would come out and give me a shot. 

Time quickly passed as I watched the two bucks mill around and chase one another, but as soon as the sun dropped, they left. It was starting to get dark and I was just getting ready to climb down when a dark object in the trees caught my eye. At first I thought it was a cow, and considering this was a working cattle ranch it made sense. The thing just stood there, black in color and not moving. I finally looked through my binoculars and saw it was a hog, a big hog!

Slowly he worked his way toward a small clearing in hopes of scrounging out a few tidbits of corn left by the deer. This was the last evening and we had a long drive back to Oklahoma that night and the thought of killing a hog this late would require a lot of work, but I also knew he was big, ferocious looking and I wanted him badly. I also knew how much great eating meat he'd yield.
It was the last five minutes of the last day when I pulled the trigger on the Ruger .338 RCM. The boar dropped to the ground, not moving a muscle. I didn't realize how big he was until I walked up to him. He had a massive body and giant teeth. Old and battle scarred, he was a trophy I was proud of.

I guess good things do happen to people who wait. I would like to thank Carl for inviting me to a place where things are not snow white and also to my father for teaching me how to hunt and also my nephew Tyler for making it such a good time.