​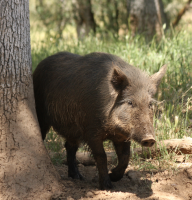 Summer time is usually an off time for me. Spending August through May pursuing big game in Alaska has been a blessing over the decades, and I have been very fortunate to go on some great hunts. In June I usually hunt bears before heading home to Oklahoma, but this year I didn't set anything up and was feeling kind of bummed about it. That's when I turned my attention to hunting hogs back in the Lower 48.
Once home in Oklahoma, I discovered a group of wild hogs by accident one summer. I was checking our property, when I saw a flash of black. At first I thought it was dogs, but after closer inspection I could see it was hogs. Seven hogs, in fact, and they were making their way through the tall grass and weeds in one of our back pastures. A blessing for some and a burden for others, wild hogs are fun to hunt, and they're plentiful, but can destroy a lot of property in a matter of days.
When I do hunt bears in Alaska, we usually set-up up several bait stations and then climb a tree and wait. I got to thinking why not try this approach on these hogs? This would be a great chance to put some of those old bear strategies to work on my own land. It was shaping up to be a good summer.
I created a bait station behind one of our old pond banks that not only provided great cover for an approach, but was also next to a giant Sycamore tree that I could hang a stand in. After setting up, providing the goods and hanging a camera, we waited. Each morning I would go down and check to see what the SD card held. The first two nights nothing, but on the third night we had hogs. And not just a few, but a bunch of hogs! I counted 11 ranging from a couple of 200 pounders all the way down to piglets.
The next time we counted an incredible 22 hogs and it seemed as time went on the herd grew. It really started to make us wonder where all these hogs came from and why we hadn't seen them before? Our only guess was that our property lies next to a game refuge and they eventually wondered on to our land. My only thoughts were that I could hunt, kill a few and put some meat in the freezer, plus I could hunt everyday all summer. One man's curse is another man's blessing.
The first night in the stand became a waiting game, but right before dark they started to arrive. The bigger boars we had caught on camera were not there, but a couple of respectable size pigs still ambled their way to the corn I had poured on the ground. After letting them get settled I lowered the 7mm and took the biggest of the bunch. All heck broke loose and I had hogs going in every direction. A smaller boar made the mistake of stopping and looking back. Boom! Hog number two was down. I love when a plan comes
together.
The next night we were back and so were the hogs. This time I took my 10 year old son, Eli, with me, hoping he would get a glimpse of what hog hunting is all about. On our way to the stand I could hear rustling and the soft squeal of pigs. They had come out early and beat us to the stand. Gently peaking over the pond bank I could see the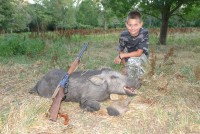 outline of several dark colored pigs with one hog that was a bit bigger than the rest. Slowly raising the 30-30 I picked my spot and watched as the pig hit the ground. My son was wide eyed and couldn't believe we had actually killed a pig on somewhat of a stalk.
After that evening the pigs caught on and proved why they're the smartest of all game animals. They waited until dark to arrive. So, after several late evenings in the stand I decided to take it to another level. Once, while hunting in Africa, I had the opportunity to hunt leopards at night. It was quite the set-up. Total darkness with nothing but a red light shining over an extra dead ostrich was all I could see from inside the blind. Why not try this on pigs. Being kind of new to hog hunting, I read as much as possible including new and old issues on Extreme Hog Hunter.
I bought a re-chargeable light with a red cover and tried it for a couple nights. It worked great on the smaller pigs, but the big boys stayed away. Eventually I gave up and hoped for a daylight appearance.
For the next several weeks we continued to bait and check cameras, but the hogs went totally nocturnal and only came very late at night. Each morning though the corn was gone and we had boars on the screen of our trail camera. What was interesting is that we had pictures of several really big pigs that we estimated to weigh close to 300 pounds. Man I wanted one of those!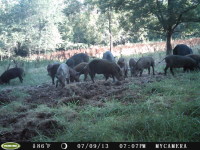 We hunted continuously throughout the rest of the summer, but just couldn't make it work. The last evening before I was due to head back to Alaska I decided to go down and climb the stand for one last chance. This time I would take my bow and hope something happened. I sat for an hour, but the bugs were bad and the heat from a late August evening in Oklahoma was starting to take their toll. I was thinking about climbing down and heading back to the house. I got up to stretch when I noticed a lone pig making it's way across the field. Adrenaline shot through my veins as I slowly sat back down and put my release on the string.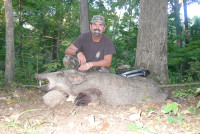 He came in slowly circling the bait and checking the wind, acting more like a whitetail deer than a pig. I let him get comfortable and then as he turned sideways the BowTech bow armed with a big Steel Force broadhead found the mark.
Hunting hogs in my backyard was a surprise and a welcome summer treat, and yielded
some of the best big game meat the family had ever had. The whole process of finding
the hogs and then luring them in to hopefully get a shot is, to me, about as fun as it gets. Now, each time school lets out in Alaska and I'm saddened to be leaving for a few months, I just think of hunting hogs in Oklahoma, and realize it's not too bad of a way to spend the summer.
OutdoorsNow.com Note:
Paul Atkins is an outdoor writer from Kotzebue, Alaska. When not there you can find him hunting throughout North America and Africa or spending time on his Oklahoma farm.