Late Season Bowhunting Basics For Whitetails
Late season whitetail deer hunting can be the toughest hunt of all. Here, noted author and hunter, Paul Atkins shares some of his tips for success.
​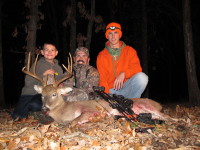 December is a tricky month for bowhunting whitetails, especially in the dense hardwoods where patterning deer is almost, if not totally, impossible. The rut is pretty much over and in most regions the rifle season was finished weeks ago. Chances are you will not even see a deer except maybe at night, crossing the road in front your truck. On the other hand, you may hear of a deer that has been seen in an area that you have the opportunity to hunt. The deer is in post-rut shape, worrying only about food and cover, but never the less he's been seen on the move and with a little basic knowledge you might be able to get close. Whichever the case, it can be tough, but as the saying goes "being in the right place at the right time" is everything.
If you're like me and only get to hunt whitetails occasionally, or when time allows, and the thought of scouting an area, setting a game camera, planting a food plot or even hanging a stand is nothing but a dream, you can still go in "cold" and get the job done, especially if you love to spot and stalk, and like to hunt an area on gut instinct. Some areas allow the use of a feeder to bring deer in, but for me this is not an option.
If you love to bowhunt and spend time in the woods, and the information you have on an area is minimal, then these few simple steps will enhance your chances on connecting with a late season deer.
FIND THEIR BEDS
Deer won't be to far from where they are comfortable and feel safe. The area I bowhunt in northeast Oklahoma is made up of dense hardwoods with a combination of briars and scrub. With little in terms of crop fields, the deer rely on these areas for two reasons: One to bed, two, to feed on the hard mast that has accumulated on the ground. However, depending on the acorn crop for the year, this can be hit and miss. If most or all have been devoured already, deer will move on to browsing anything that is still green. Honeysuckle, which is intertwined within the briars and scrub around our place are abundant and a favorite for deer come late December.
Whichever the case, these areas are ideal for deer during the late season and they will usually hang out there 24/7. If they do decide to venture to an adjacent pasture or water source it will be late in the evening, usually right at dark. Late season deer will sometimes create somewhat of a travel route to and from these areas, but it's been my experience when it comes to the hardwoods it's never the same route. However being in the general area long before the sunsets for either a stalk or just to set-up on the ground or next to a tree or downfall is an ideal situation for an ambush.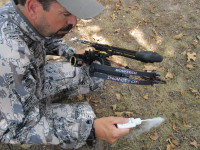 DOPE THE WIND
The key to any hunt is playing the wind. With all the new technology in scent proof gear, I still personally believe that having a good sense of wind direction is the key to success on any hunt. No matter what the quarry, being able to get downwind of your shooting lane will improve the chances of getting a shot. In the area I bowhunt, late December usually brings a northerly wind, but that isn't always the case. Carrying a bottle of wind direction powder and constantly using it will enable you to detect what the wind is doing at all times. Most bowhunts are doomed because the wind either changed or hunters are not paying attention to it. Of all the factors that determine success or failure, being able to accurately judge the wind is key to any bowhunt.
THE GROUND GAME
Spot and stalk is tough, no matter what the species. Personally, I prefer to hunt this way versus any other approach. Maybe it's the Alaskan coming out in me, where trees are an after thought and success depends on being able to move and be in the right spot at the right time. However, with whitetails it's different and being on the ground is not near as good as being in a treestand or a ground blind. But when you walk in and hunt a new area with little knowledge, spot and stalk is about the only choice; plus if time is a factor it let's the bowhunter cover more territory and see what the area has to offer.
If you're on the ground, start by slowly working your way into the wind with a desired point or area in mind that you want to reach or set-up. In the hardwoods of Oklahoma, every step echoes through the hills. Dry, dead leaves make a lot of noise and the slower you go the less noise you will make; plus it gives the bowhunter a better chance at spotting a deer. Most hunters move too fast while on the ground and want to get from point A to pint B as fast as possible. The key is to start early, giving yourself plenty of time to get to where you want to set up. For every 20 steps, stop, look and listen for 20 minutes. If the area holds deer, your odds of seeing or getting a shot will greatly increase.
CALLS & SCENTS
Late season bucks are wary. They have seen, heard and smelled just about everything that the hunter can throw at them during the fall and unless it's really interesting, they will probably just ignore you. Calls can be used to get their attention and in some cases stopping them in order for you to make the shot, but if food and sleep are all they're interested in, then most calls won't work. On the other hand, scent usage can be considered, especially if its food flavored and practical to the timeframe. Remember, it's December and you need to consider what a deer might be searching for at the time. Acorn or corn flavored scents might be considered. If at all possible place it upwind of your setup so that will attract a deer to your location and hopefully bring one within bow range.
THE WEATHER
Most articles that are written about late season whitetails deal with cold weather. There's usually snow on the ground with the only food source being some leftover corn that a farmer left in some adjacent field. Eventhough that sounds like an ideal situation, it isn't always the case. For many of us who hunt south of the Mason Dixon line, December is still somewhat warm. Food sources are tough to find and being able to track a deer in nothing but leaves is next to impossible. Most days are sunny with wind, but occasionally a storm brews, temperatures drop and clouds roll-in. Deer will react and move a bit earlier than normal. Like most of us who were taught to hunt by our fathers or grandfathers, the fluctuation of the barometer is the key to success. When the barometer starts to drop, the deer will be on the move. If this is the case, make sure you're in the woods, set-up and ready.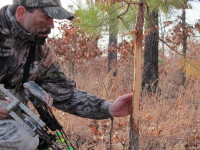 CONCEALMENT
In all hunting, good camouflage is a must, but even more so if you're on the ground. Being eye to eye with a skittish whitetail instead of standing in a tree or inside a blind is about as tough as it gets–one false move will ruin any chance you have at releasing an arrow. Having good camouflage from head to toe, including gloves and a head net or face paint, are a must. Personally, I like to wear face paint for no other reason than it keeps my peripheral vision clear without the clouded view of something over my face. If you're hunting in weather that requires an extra layer or two, be sure to check your draw and make sure your string will clear your gear. I once had a great buck within bow range only to have my arrow hit the ground in front of him due to the bulky sleeves of my coat. I never saw that buck again.
MAKE THE SHOT
All hunting situations call for the right equipment. Good, flat shooting, hard hitting bows, such as BowTech's Insanity or Invasion are excellent choices. Whatever your brand, they not only need to be quiet with a let-off that's on the high end, but you need to be comfortable shooting it. On the ground you will be either shooting from a kneeling position or while sitting down. Practice is the key and bowhunters should implement this during their practice sessions. Shoot from a variety of positions wearing whatever you plan to hunt in and know your effective range from these positions. Being prepared to make any ethical shot at any given moment is the key to success.
Most late season scenarios go something like this: You spot a deer coming your way through the thick undergrowth, and you quickly find a lane where he should appear. Drawing your bow at the right time, usually long before he arrives is your only choice, you wait. You might have to hold that bow for what seems like forever in order to make the shot, but you do and as soon as he appears in the opening you grunt and he stops. You place your pin and the buck is yours.
It was starting to get cold one December and darkness was setting in. I was thinking about grabbing my gear and heading home, when I noticed movement to my left. Through a small stand of young oaks I caught the flash of a deer and then an antler appeared; just one long tine that rose above the leaves. I instantly froze thinking this has to be my imagination. But the tine I had seen coming through the brush wasn't my imagination, as it belonged to a very nice whitetail buck. Concealed behind a tree, fully camouflaged, I watched as the deer inched closer. With the light quickly fading, I picked a spot where I thought he would come through, barring no distractions, and drew back my Destroyer. With the wind in my face the buck cleared the last bit of brush and stopped. I hit the release and the Gold Tip Velocity arrow tipped with a Steel Force 100 grain broadhead was on its way. The stillness of the area erupted and the buck crashed to the ground a mere 20 yards away.
Bowhunting late season whitetails in the hardwoods, in my opinion, is about as tough as it gets, especially on the ground. But if you pay attention to these few steps and are lucky enough to connect, it will truly be a trophy of a lifetime.
Products used in this article
SWAROVSKI EL Range Rangefinding Binoculars - Clear

SWAROVSKI EL Range Rangefinding Binoculars - Clear

Only $3249


Purchasing through OutdoorsNow.com gets you a cash rebate of 3% on this product.



Look and range within seconds with the EL Range Rangefinding Binoculars from Swarovski. The legendary optical performance you expect from Swarovski combined with rangefinding precision has a new, ergonomic design for even better handling in the field. Inside the durable, lightweight magnesium-alloy ...

| | |
| --- | --- |
| Cash Rebate 3% | |
Cabela's Guide Series 8x32 Binoculars

Cabela's Guide Series 8x32 Binoculars

Only $199.99


Purchasing through OutdoorsNow.com gets you a cash rebate of 3% on this product.



Lightweight and more compact than comparably built binoculars, our Guide Series Binoculars provide the superior light-gathering power and optical clarity of phase-coated optics at a fraction of the price. Built with a wider field-of-view, a large, open-hinge system and a quick-adjust diopter lock sy...

| | |
| --- | --- |
| Cash Rebate 3% | |
Stealth Cam P12 Trail Cameras (8MP)

Stealth Cam P12 Trail Cameras (8MP)

Only $69.99


Purchasing through OutdoorsNow.com gets you a cash rebate of 3% on this product.



For crisp pictures of illusive wildlife, the Stealth Cam P12 6MP Trail Camera captures photos and up to 15-second videos. 12 IR emitters reach up to 40 ft. and wont spook nighttime game. Rapid-fire burst mode takes up to six photos after being triggered. Fast setup with preprogrammed or manual modes...

| | |
| --- | --- |
| Cash Rebate 3% | |
Cabela's Outfitter 12MP Color HD Trail Camera - White

Cabela's Outfitter 12MP Color HD Trail Camera - White

Only $149.99


Purchasing through OutdoorsNow.com gets you a cash rebate of 3% on this product.



Cabelas Outfitter Series 12MP Color HD Trail Camera is upgraded to capture exceptional day and night color photos and videos of wildlife. Take high-quality 12MP photos during the day and 5MP photos at night with the illumination of 40 white LED bulbs. Adjustable 5/8/12MP resolution. Trigger activate...

| | |
| --- | --- |
| Cash Rebate 3% | |
BOGgear Bog-Pod Super Steady Combo

BOGgear Bog-Pod Super Steady Combo

Only $149.99


Purchasing through OutdoorsNow.com gets you a cash rebate of 3% on this product.



Shoot with a confident, steady hand using the BOGgear Bog-Pod Super-Steady Combo. Easily set up the RLD 3 tripod using the rapid-adjust twist locks that loosen or tighten legs with a couple of turns. Use while sitting, kneeling or standing. Removable rubber feet reveal carbide tips for a secure grip...

| | |
| --- | --- |
| Cash Rebate 3% | |
Code Blue 1-oz. Buck Urine

Code Blue 1-oz. Buck Urine

Only $12.99


Purchasing through OutdoorsNow.com gets you a cash rebate of 3% on this product.



Code Blue Buck Urine works great the entire season. This 100% buck urine is collected during the peak of the rut. It provokes a territorial response from any buck in the area. Also works great to mask your own scent. Comes in a 1-oz. bottle. Color: Blue.

| | |
| --- | --- |
| Cash Rebate 3% | |
Top Secret Deer Bladder Buck Urine - Natural

Top Secret Deer Bladder Buck Urine - Natural

Only $29.99


Purchasing through OutdoorsNow.com gets you a cash rebate of 3% on this product.



Oxygen-free from collection to bottle, Top Secret Deer Bladder Buck Urine doesnt smell like ammonia like many other scents, so it has a natural, effective smell that brings deer in close. Adjustable drip system makes the scent easy to disperse. Size: 5 oz. Color: Natural.

| | |
| --- | --- |
| Cash Rebate 3% | |
Code Blue 1-oz. Doe Estrous Urine

Code Blue 1-oz. Doe Estrous Urine

Only $12.99


Purchasing through OutdoorsNow.com gets you a cash rebate of 3% on this product.



Code Blue Doe Estrous Urine is deadly effective during the peak of the rut. 100% doe urine collected during estrus. Attracts those aggressive and elusive big bucks. Comes in a 1-oz. bottle. Color: Blue.

| | |
| --- | --- |
| Cash Rebate 3% | |
Top Secret Barely Legal Foaming Doe Urine

Top Secret Barely Legal Foaming Doe Urine

Only $19.99


Purchasing through OutdoorsNow.com gets you a cash rebate of 3% on this product.



When deer urine is introduced to oxygen, ammonia is released. Top Secrets Barely Legal Foaming Doe Urine boasts an oxygen-free collection process that completely stops the scent from breaking down. This ensures that you get maximum freshness and true potency when youre ready to hunt. Perfect for use...

| | |
| --- | --- |
| Cash Rebate 3% | |
Top Secret Hot Mama Foaming Doe Estrous Urine

Top Secret Hot Mama Foaming Doe Estrous Urine

Only $19.99


Purchasing through OutdoorsNow.com gets you a cash rebate of 3% on this product.



When deer urine is introduced to oxygen, ammonia starts to be released. Top Secrets Hot Mama Foaming Doe Estrous Urine boasts an oxygen-free collection process that completely stops the scent from breaking down. This ensures that you get maximum freshness and true potency when youre ready to hunt. I...

| | |
| --- | --- |
| Cash Rebate 3% | |
Dead Down Wind CheckMate Wind Checker - Smoke

Dead Down Wind CheckMate Wind Checker - Smoke

Only $3.99


Purchasing through OutdoorsNow.com gets you a cash rebate of 3% on this product.



Dead Down Winds ScentPrevent Nanozyme technology attacks and destroys a broad spectrum of odors at the molecular level. Human scents, gas, smoke and other potential contaminants capable of spoiling a hunt cant stand up to this enzyme scent-prevention defense. In fact, Nanozyme destroys odor molecule...

| | |
| --- | --- |
| Cash Rebate 3% | |
ThermaCell Heat Packs Rechargable Hand Warmers Two-Pack

ThermaCell Heat Packs Rechargable Hand Warmers Two-Pack

Only $64.99


Purchasing through OutdoorsNow.com gets you a cash rebate of 3% on this product.



Add some heat to your winter activities with ThermaCELL Heat Packs Rechargeable Hand Warmers. One of the lightest and thinnest rechargeable warmers on the market, they add heat anywhere its needed - from shoes to hats - without otherwise being noticed. Low (104F), medium (113F) and high (122F) tempe...

| | |
| --- | --- |
| Cash Rebate 3% | |
ThermaCell Heat Packs Rechargable Pocket Warmer

ThermaCell Heat Packs Rechargable Pocket Warmer

Only $54.99


Purchasing through OutdoorsNow.com gets you a cash rebate of 3% on this product.



Add some heat to your winter activities with ThermaCELL Heat Packs Rechargeable Pocket Warmer. One of the lightest and thinnest rechargeable warmers on the market, it adds heat anywhere its needed, from shoes to hats, without otherwise being noticed. Low (104F), medium (113F) and high (122F) tempera...

| | |
| --- | --- |
| Cash Rebate 3% | |
ThermaCell Proflex Heated Insoles (M)

ThermaCell Proflex Heated Insoles (M)

Only $179.99


Purchasing through OutdoorsNow.com gets you a cash rebate of 3% on this product.



Whether youre hunting rutting whitetail or targeting big northerns through the ice, the ThermaCELL Proflex Heated Insoles will keep your feet warm so you can extend cold-weather adventures. Featuring removable, rechargeable batteries (included), you can swap out additional batteries (not included) w...

| | |
| --- | --- |
| Cash Rebate 3% | |
ThermaCell Heated Insoles (XL)

ThermaCell Heated Insoles (XL)

Only $129.99


Purchasing through OutdoorsNow.com gets you a cash rebate of 3% on this product.



Slip these wireless, rechargeable and remote-controlled, heated insoles into any pair of boots or shoes and enjoy instant, adjustable warmth with just the push of a button. Great for hunting, hiking, icefishing or just to add some soothing warmth to your favorite slippers. Your feet will never overh...

| | |
| --- | --- |
| Cash Rebate 3% | |
Cabela's Men's Heated Performance Vest with 4MOST Windshear Tall - Timberwolf Grey (M)

Cabela's Men's Heated Performance Vest with 4MOST Windshear Tall - Timberwolf Grey (M)

Only $114.99


Purchasing through OutdoorsNow.com gets you a cash rebate of 3% on this product.



Made with Gerbings patented Microwire technology, Cabelas Mens Heated Performance Vest with 4MOST WINDSHEARheats strategic locations in the chest and back for warmth you can count on no matter what the temperature is outside. Adjust the level of warmth with the microprocessor controller built into t...

| | |
| --- | --- |
| Cash Rebate 3% | |
Grabber Warmers

Grabber Warmers

Only $10.99


Purchasing through OutdoorsNow.com gets you a cash rebate of 3% on this product.



Cold weather will never keep you from any outdoor activity when you go afield with these handy, safe chemical warming packs. No flame or external heat source is required. Just activate the completely contained chemicals and enjoy comfortable warmth for hours. Available: Adhesive Body Warmers Just st...

| | |
| --- | --- |
| Cash Rebate 3% | |
Cabela's Men's Wooltimate Fleece Beanie - Outfitter Camo (ONE SIZE FITS MOST)

Cabela's Men's Wooltimate Fleece Beanie - Outfitter Camo (ONE SIZE FITS MOST)

Only $26.24


Purchasing through OutdoorsNow.com gets you a cash rebate of 3% on this product.



We combined the best qualities of two of the most popular hunting fabrics ever made to come up with Cabelas-exclusive Wooltimate fleece a revolutionary blend with the natural warmth of washable wool and the quiet softness of Berber fleece. 100-gram Thinsulate Insulation. Odor-resistant Polartec Powe...

| | |
| --- | --- |
| Cash Rebate 3% | |
Cabela's Instinct Men's Backcountry Shell Gloves with Gore-TEX - Zonz Backcountry 'Camouflage' (L)

Cabela's Instinct Men's Backcountry Shell Gloves with Gore-TEX - Zonz Backcountry 'Camouflage' (L)

Only $99.99


Purchasing through OutdoorsNow.com gets you a cash rebate of 3% on this product.



Painful, icy hands can shut down a hunt in a hurry. Stay in hot pursuit with your hands shielded in our exclusive Instinct Mens Backcountry Shell Gloves. These midweight gloves are heavy enough to keep hands toasty as the temperature plunges and light enough to text about it during the hunt. PrimaLo...

| | |
| --- | --- |
| Cash Rebate 3% | |
Cabela's Stealth Hunter 5 Ground Blind - Camo

Cabela's Stealth Hunter 5 Ground Blind - Camo

Only $349.99


Purchasing through OutdoorsNow.com gets you a cash rebate of 3% on this product.



Innovative window slides on Cabelas Stealth Hunter Ground Blind grant silent access to shooting windows. Four large windows and a smaller window on the door allows 280 shootability. Independent shoot-throughmesh and panel window coverings each slide smoothly and silently open and close, ensuring you...

| | |
| --- | --- |
| Cash Rebate 3% | |
Primos Double Bull Bullpen Ground Blind Mossy Oak Obsession

Primos Double Bull Bullpen Ground Blind Mossy Oak Obsession

Only $179.99


Purchasing through OutdoorsNow.com gets you a cash rebate of 3% on this product.



Take concealment to the next level by hiding from wild game in a Double Bull Bullpen Ground Blind by Primos. Rugged hub construction is simple to setup and take down for quickly getting in the hunt. 180 full front view window with silent-slide window closures. Ultratough Double Bull materials ensure...

| | |
| --- | --- |
| Cash Rebate 3% | |
Cabela's Comfort Max 360 Mag Elite Blind Chair - Black

Cabela's Comfort Max 360 Mag Elite Blind Chair - Black

Only $149.99


Purchasing through OutdoorsNow.com gets you a cash rebate of 3% on this product.



Set up our Comfort Max 360 Mag Elite Chair and youll instantly be in position when its time to take a shot. Because it silently swivels a full 360, you can effortlessly turn to shoot out any side of your blind. Strong Dura Mesh fabric provides all-day back support and cool breathability. Padding on ...

| | |
| --- | --- |
| Cash Rebate 3% | |
Primos Double Bull QS3 Magnum Tri-Stool - Camo (TRUTH)

Primos Double Bull QS3 Magnum Tri-Stool - Camo (TRUTH)

Only $44.99


Purchasing through OutdoorsNow.com gets you a cash rebate of 3% on this product.



Grab the Primos Double Bull QS3 Magnum Tri-Stool and go. Its lightweight for easy carrying and comfortable for long hours in your blind. Perfectly sized for sitting while you watch for game in your ground blind. Steel construction. Supportive backrest. Imported. Wt. capacity: 300 lbs. Wt: 6.5 lbs. A...

| | |
| --- | --- |
| Cash Rebate 3% | |
Cabela's Real Rack Rattle Bag

Cabela's Real Rack Rattle Bag

Only $39.99


Purchasing through OutdoorsNow.com gets you a cash rebate of 3% on this product.



During the rut, its hard for bucks to resist the sound of antlers cracking together in heated confrontation. Thats why every buck hunter needs a rattle bag filled with five authentic whitetail sheds. To use this essential buck-hunting call, hold the bag in one hand and quickly hit it with the other,...

| | |
| --- | --- |
| Cash Rebate 3% | |
Hunters Specialties Heavy Horns Rattle Bag

Hunters Specialties Heavy Horns Rattle Bag

Only $19.99


Purchasing through OutdoorsNow.com gets you a cash rebate of 3% on this product.



The Heavy Horns Rattle Bag by Hunters Specialties is a great tool for bringing in deer and elk during the pre-rut and rut. Hand-selected hardwood rods are specifically sized and shaped to reproduce the sounds of antlers locked in battle. Its durable bag lets you rattle one-handed, and the elastic si...

| | |
| --- | --- |
| Cash Rebate 3% | |
Cabela's Real Rack Rattling Antlers - Natural

Cabela's Real Rack Rattling Antlers - Natural

Only $99.99


Purchasing through OutdoorsNow.com gets you a cash rebate of 3% on this product.



During the rut, its hard for bucks to resist the sound of antlers crashing together or locked in a heated confrontation. Thats why every buck hunter needs a set of authentic whitetail sheds. To use this essential buck-hunting call, simply grip the bases of the antlers and rattle them together to cre...

| | |
| --- | --- |
| Cash Rebate 3% | |
Primos Still Bleat

Primos Still Bleat

Only $9.99


Purchasing through OutdoorsNow.com gets you a cash rebate of 3% on this product.



This is the call that triggers a strong maternal instinct in does and brings them running. By reproducing the distress bleat and bawl of a young deer and bringing does to investigate, bucks in the area may follow the does. That makes it ideal for early season hunts. Once the rut is on, try the bleat...

| | |
| --- | --- |
| Cash Rebate 3% | |
Primos THE Great BIG CAN

Primos THE Great BIG CAN

Only $12.99


Purchasing through OutdoorsNow.com gets you a cash rebate of 3% on this product.



Even larger than the THE Original CAN , THE GREAT BIG CAN is made for longer and louder calling. It reproduces the pleading bleat of a doe in estrus, making it perfect for the rut. It's simple to use, just turn it upside down and back up for a perfect bleat every time. 100% freezeproof.

| | |
| --- | --- |
| Cash Rebate 3% | |
Outdoor Edge Wild Pak Game Processing Kit - Blaze Orange

Outdoor Edge Wild Pak Game Processing Kit - Blaze Orange

Only $49.99


Purchasing through OutdoorsNow.com gets you a cash rebate of 3% on this product.



Take care of game all the way from the field to your freezer with the Outdoor Edge Wild-Pak Game Processing Kit. Lightweight set consists of eight pieces in one hard-side carrying case full-tang caping knife, gut-hook skinner, boning knife, carbide sharpener, wood/bone saw, ribcage spreader and game...

| | |
| --- | --- |
| Cash Rebate 3% | |
MAD Deer Grunt

MAD Deer Grunt

Only $12.99


Purchasing through OutdoorsNow.com gets you a cash rebate of 3% on this product.



A quality call for the budget-conscious hunter. Produces grunts, pops and even growls. Type: Deer Calls.

| | |
| --- | --- |
| Cash Rebate 3% | |
Cabela's Elite Scout Hunting Pack - Zonz Western 'Camouflage'

Cabela's Elite Scout Hunting Pack - Zonz Western 'Camouflage'

Only $144.99


Purchasing through OutdoorsNow.com gets you a cash rebate of 3% on this product.



With its lightweight design, ample carrying capacity and deadly silent construction, our durable Elite Scout Hunting Pack is an ideal match for your hunting style. The backpack shell is constructed of CTS 450 Tricot, a durable, super-quiet, ultrasoft material that remains quiet in any temperature or...

| | |
| --- | --- |
| Cash Rebate 3% | |
Cabela's Alaskan Guide XW White Headlamp by Princeton Tec (AG XW WHITE W)

Cabela's Alaskan Guide XW White Headlamp by Princeton Tec (AG XW WHITE W)

Only $49.99


Purchasing through OutdoorsNow.com gets you a cash rebate of 3% on this product.



Rely on Cabelas Alaskan Guide XW White Headlamp by Princeton Tec to illuminate the trail with 78 lumens of light. Weatherproof construction shields the light from the elements. Adjustable headband for optimal comfort. Features both a regulated Maxbright LED and three 5mm white LEDs. Operates on thre...

| | |
| --- | --- |
| Cash Rebate 3% | |
Led Lenser P7 Flashlight

Led Lenser P7 Flashlight

Only $69.99


Purchasing through OutdoorsNow.com gets you a cash rebate of 3% on this product.



One of the most popular flashlights on the market, the P7 is the ideal combination of size and power. High or low settings are user selectable for the situation. Advanced Focus System provides a narrow beam for long-distance work or spill beam for close tasks. On high it delivers 175 lumens for one ...

| | |
| --- | --- |
| Cash Rebate 3% | |
Chef'sChoice Edgecraft Diamond Oval Steel Knife Sharpener

Chef'sChoice Edgecraft Diamond Oval Steel Knife Sharpener

Only $34.99


Purchasing through OutdoorsNow.com gets you a cash rebate of 3% on this product.



Advanced sharpening with innovative edge-conditioning, oval-shaped steels. Coated with premium, ultrafine 100 diamond abrasives to hone your knife and realign its edge, producing extraordinary sharpness for better edge quality. The steels' shape creates a larger effective sharpening area for quicker...

| | |
| --- | --- |
| Cash Rebate 3% | |
Outdoor Edge Wild Pak Game Processing Kit - Blaze Orange

Outdoor Edge Wild Pak Game Processing Kit - Blaze Orange

Only $49.99


Purchasing through OutdoorsNow.com gets you a cash rebate of 3% on this product.



Take care of game all the way from the field to your freezer with the Outdoor Edge Wild-Pak Game Processing Kit. Lightweight set consists of eight pieces in one hard-side carrying case full-tang caping knife, gut-hook skinner, boning knife, carbide sharpener, wood/bone saw, ribcage spreader and game...

| | |
| --- | --- |
| Cash Rebate 3% | |
Kershaw Shallot Series Knives - Stainless Steel

Kershaw Shallot Series Knives - Stainless Steel

Only $89.99


Purchasing through OutdoorsNow.com gets you a cash rebate of 3% on this product.



Kershaws latest SpeedSafe manual assisted technology lets you open the 3-1/2 blade with effortless ease.Crafted of Sandvik 14C28N stainless steel, the blade is highly durable and maintains its precision edge through frequent use. Handle is constructed of 410 steel and is available unfinished or with...

| | |
| --- | --- |
| Cash Rebate 3% | |
Cooking Big Game

Cooking Big Game

Only $19.95


Purchasing through OutdoorsNow.com gets you a cash rebate of 5% on this product.



Ginger Coconut Venison, Cajun Smothered Pork, Orange-Soy Jerky, Planked Bear & Onions; these are just a sampling of the more than 100 classic and imaginative recipes found in this exciting book. Thanks to the subsistence lifestyle they led in Alaska, and their adventures abroad, the Haugen's have ...

| | |
| --- | --- |
| Cash Rebate 5% | |
Muddy The Nexus Ladder Stand - Orange

Muddy The Nexus Ladder Stand - Orange

Only $319.99


Purchasing through OutdoorsNow.com gets you a cash rebate of 3% on this product.



Designed with ultralight Flex-Tek Zero-Gravity seat technology and orange nylon silencers, Muddys The Nexus Ladder Stand proves the ultimate in quiet, comfortable hunting. Adjustable 1-thick padded shooting rail on the roomy two-person treestand delivers a sturdy gun rest that can be easily flipped ...

| | |
| --- | --- |
| Cash Rebate 3% | |
Field Dressing Skinning and Caping Big Game DVD

Field Dressing Skinning and Caping Big Game DVD

Only $20


Purchasing through OutdoorsNow.com gets you a cash rebate of 5% on this product.



Field Dressing, Skinning and Caping Big Game is a comprehensive DVD offering more than two hours of insightful knowledge on the how-to aspects of proper field care.

| | |
| --- | --- |
| Cash Rebate 5% | |