​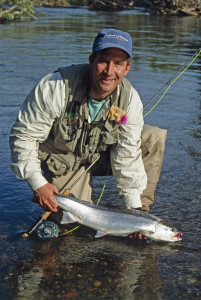 From the raised river bank, steelhead could clearly be seen milling about in the head end of a deep hole. Stealthing to within easy casting range, I stripped a leech through the slot, without so much as a glance from the fish below. A weighted bunny hair pattern was next, and again, nothing.

Slipping a strike indicator, a small split shot and a jig on to the nine foot leader, I ran it through the same boil. Before the first mend the indictor was yanked under, a tailwalking silver streak of a steelhead twisting and turning on the opposite end. Tannic stained water flew from the small Alaskan stream, and soon I was reviving a stunning steelhead for release. Four casts later and two more steelhead were released into the same hole.
My fishing partner worked the hole below me, and though he could see plenty of fish, couldn't elicit a strike on a purple leech. Equipping him with a setup identical to mine, he proceeded to land two steelhead and a coho salmon in his next seven casts. Together we'd made 12 casts and banked six fish. Over the course of the next two hours we landed more than twenty fish, all on jigs.
Why The Jig?
For many purist fly fans, attempting to fish jigs can be a tough decision. While jigs have been in existence for several decades, the recent resurgence of this method has motivated many folks to learn the art of working them on a fly rod. With 1/16 and 1/32 ounce jigs available to fly anglers, the technique is even more alluring.

Over the past few years, these smaller jigs have proven their worth from Alaska to California, on trout and year-round steelhead runs. Fly aficionados quickly learned how effective the weighted presentations could be in certain situations, ultimately allowing them to cover a higher percentage of water.
Due to their lead head, jigs have a fast sink rate. The 1/16 ounce jig drops into the strike zone quicker than the 1/32 ounce, but with the addition of split shots, the 1/32 ounce can get down just as speedy. In fast moving, deep holes accompanied by boils, weight can be added to the 1/16 ounce jig to keep it down where the fish are.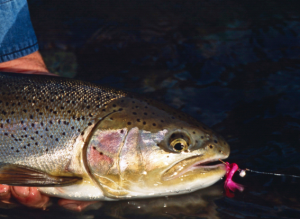 Because jigs have the ability to quickly sink, they allow fly anglers to work water heavy in hydraulics. Suction pools and boils commonly associated with fast moving steelhead waters can efficiently be accessed. White water that quickly pushes an uncontrolled fly through it can now be drifted with a jig.

In early fall, when many rivers run low and warm, fish often hold behind individual rocks, amid tempestuous, oxygen-rich water. Such confined pockets can be tough holding a fly in, as the churning water routinely kicks out the presentation before it has a chance to fish. By positioning the strike indicator near the jig, turbulent pools can be targeted. In such situations, fish won't always chase presentations such as a nymph, egg pattern or streamer that aimlessly moves around, but a jig precisely placed in the pocket will often drop directly into the strike zone and be quickly devoured.
Since most steelhead that bite are the ones holding within a foot of the bottom, getting a presentation down to them can be the biggest challenge faced by anglers, especially when the fish are being stubborn and unwilling to move up for a fly. The jig setup allows you to get down to finicky fish.
The Ideal Jig
When searching for a jig -- or deciding to craft your own -- there are a few key points to consider. Physical structure is perhaps the most critical element when it comes to jigs. No matter how enticing the tie-job may be, if the jig can't withstand the punishment delivered by a tenacious steelhead or a trophy trout, they're not worth fishing.

A stout hook that won't bend when pressured is critical. I've caught over a dozen big fish on a single jig, a testimony to the value of a quality hook. A tight wrap is also crucial; something that will hold the marabou in place fish after fish. Granted, tattered marabou may result from a single strike or battle, depending on the fish and where it's hooked, but often times multiple fish can be taken on one jig that's properly tied.

The use of quality marabou is also a must. Some fastidious jig creators will only craft one jig from a single strip of marabou, unlike the occasional commercial products that may get three or four jigs from the same feather. A clean, defined section of marabou seems to outperform the bulky fluff which may be more appealing to human eyes. The finished product should be trimmed within one-quarter inch of the hook bend, not left to trail an inch or more behind.


Many jigs on the market come with plain, unpainted lead heads. The value of a painted head is immeasurable, since this is the first part of the jig often seen by a fish. Under certain lighting conditions -- both above and below the surface -- colored jig heads will produce a strike when lead heads won't. There are many jig head paints available to consumers, from powders to acrylics, most of which all work well.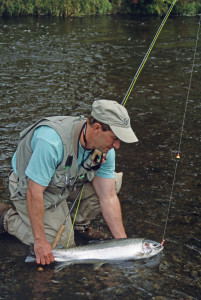 When it comes to jig color, it often boils down to personal preference. In the Pacific Northwest peach and white marabou with a peach colored head outperform all other color combinations. This is true on summer and winter steelhead, whether fishing crystal clear, low waters or high, turbid streams. As a general rule, black or purple bodied jigs do very well on overcast days and in deeper holes, while bright red, orange, green, pink or chartreuse produce on bright, sunny days and in shallower stretches.

In general, there are no set rules on color selection when fishing jigs, though there are always exceptions. In Southeast Alaska, purple and blue jigs have been my favorite; on the Kenai Peninsula, pink and yellow marabou with an orange head are my colors of choice. In the Pacific Northwest, pink and white are tough to beat, and combined with the peach and white, are the only two jigs many fly fishers carry to the stream. On days when none of the favored jigs produce, switch patterns until you find one that does.

When targeting trout, the aforementioned color combinations work, but I've had the most consistent results with a 1/32 ounce Egg Sucking Leech imitation. This is nothing more than a black or purple bodied jig tied beneath a bright pink, orange or red head.

Having pursued steelhead for 35 years, I honestly can't pinpoint what it is about jigs steelhead like, thus can only hypothesize. Since jigs are fished in a dead-drift nymphing fashion, virtually no pulsating action is imparted on the marabou. Rather, a streamline, steady drift is what's achieved. When seen from straight on, the head of the jig is what appears the largest, followed by a slender line of attractive colors or images. A fish that sees a jig from below sees both the head and the entire body.
Because a jig is weighted, it can be drifted through the same exact place, cast after cast. Often I've spent upwards of 30 minutes casting to a single fish holding in one spot. After running a jig right past the fish's nose for that long, it will often attack out of aggression. Some steelhead strike on the first cast, others may take more coaxing. That said, I believe the ability of an angler to control the depth and position of a jig is what makes it so effective; color selection being secondary.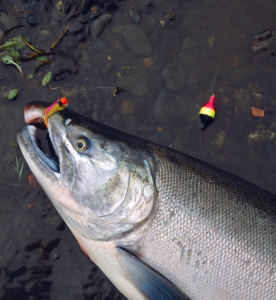 The Setup
A floating line and nine foot tapered leader are perfect for jig fishing. Eighteen inches or so above the jig, shot can be placed. The shot size depends on the size jig being used and the depth and rate of water flow being fished. When fishing small streams and pockets with 1/16 ounce jigs, I've found little need for added weight. However, in deeper, faster moving rivers, weight can easily be added to the 1/16 ounce setup. If utilizing the 1/32 ounce jig and wish to add more weight, add enough so the jig will sink immediately upon hitting the water. No matter what size jig you're using, it's critical to get it down and fishing as soon as possible, so as not to pass over any fish.

When selecting a strike indicator, choose one that rides high in the water and can be monitored in turbulent conditions. Because jigs are largely fished in unstable waters, using a buoyant indicator that can be read is prudent. A lightweight, streamlined indicator will also allow for easier casting when dead-drifting through larger holes.

Fishing depth is solely determined by where the strike indicator is secured, which is based on the water being fished. I've caught fish with the indicator snugged against my nail knot, as well as eight inches from my jig in very shallow streams. In areas such as breaks, slicks or shallow riffles, jigs can be floated into a steelhead's line of sight in the lowest of conditions.

Because so much mending can take place during the course of a day, especially on big rivers where great lengths of line lay on the water, I prefer using a 7 to 9 weight rod for steelhead, a 5 to 7 weight rod for trout. In small coastal steelhead streams choked with brush, I like a 9 weight rod for the added control it offers when battling big fish and keeping them out of snags.
As in nymphing, repeated line mending is the key to creating the most natural drift possible when fishing jigs. To ensure the jig is fishing properly, the indicator should float in a relaxed, erect position at all times. If the indicator is tipping downstream, the jig is hitting the bottom; slide the indicator closer to the jig for added lift. If the indicator is tipping upstream, increase the amount of weight or try to create more of a serpentine action in the mended line to speed up the drift on the surface. At the same time, avoid laying too much line atop the water, as this will also create drag. An unconstrained drift is critical in attaining a model presentation.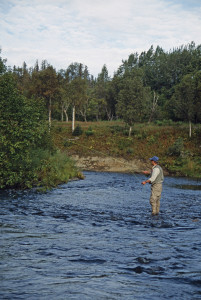 Fishing The Micro Jig
The beauty of fishing the jig is the diversity of water it allows anglers to disseminate. Streams typically tough to fish due to incompatible water flows can now be worked with improved control and accuracy. Fast flowing riffles, turbulent rock gardens, sheer ledges, cut banks and deep slots constitute ideal jig water. Streams entombed by brush can be fished more effectively due to drifting techniques and precision roll casts that put the weighted setup where it needs to be, keeping the angler in command throughout the entire drift.

In small streams laden with brushy shorelines, roll casting the jig into position is common practice. Place the jig in the water at an upstream angle from where you stand, mending the line to create a natural drift. Once the indicator has shifted to the downstream position, strip line to match or slightly exceed the rate of stream flow. Continue mending the line to the upstream side, so as to alleviate any line tension. This assures the jig will be kept moving downstream at a consistent rate, maintaining a constant depth.

On larger streams, casting is the norm. Keep in mind, the more weight you add -- and the more cumbersome the indicator -- the more difficult casting may become. Once in the water, basic dead-drift nymphing is the preferred approach. Continually mend the line to create a natural drift through deep holes, riffles and fast moving slots.

In swift tailouts and along extended stretches of fast moving water, the setup can often be swung at the end of the drift. Though the setup is a lot of weight to move, if the water is flowing rapidly, fish holding low in a tailout or on fast water fringes often respond to this action. In big water, the extra backbone offered by a heavier weight rod can be beneficial if you plan on doing much swinging.

The first half-dozen casts are the most crucial when working a jig, especially in unfamiliar water. It's within the initial casts where anglers must determine the exact depth to be fished, adjusting the indicator -- and perhaps the attached weights -- so the jig rides anywhere from three to 12 inches off the bottom. Though steelhead and trout may move considerable distances to strike a jig, this is not a guarantee.

The primary objective is to place the jig smack on the fish's nose, or directly in it's line of sight, and the controlled way in which a jig can be fished allows such a presentation to be attained. This is accomplished by adjusting the strike indicator so the jig fishes just off the bottom. On several occasions I've sight fished steelhead that wouldn't budge for a jig. By lengthening my dropper I have been able to put the jig in the sweet-spot, where all the fish had to do was open its mouth to let the jig in.
Introducing a jig is effective from a drift boat and the bank. In both scenarios, work the jig from the upstream side, feeding out enough line to allow a natural drift that mimics the rate of the stream flow. In long runs, don't hesitate laying all 90 feet of dry line on the surface, keeping a close eye on the indicator as it moves downstream. As long as the indicator maintains an upright position and natural flow rate, the jig is in proper fishing position.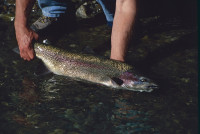 Whether or not you're a purist line whipper or looking for new ways to approach the sport we all love, there's no disputing the effectiveness of the jig. The choice to apply this technique is yours. One Oregon fly shop near my home refuses to carry jigs, dismissing it as nontraditional fly gear. A cross-town rival fly shop can't keep them in stock, with anglers clearing the shelves the moment a new shipment of 1/32 and 1/16 ounce jigs arrive. Several area guides are now using jigs with their customers, stating it allows them to fish more water, and is easy for novice anglers to quickly master.

Of the fledgling and veteran anglers who've tried a jig and found continued success, they are convinced it's for real. But the best way to assess its worth is to try it yourself; once you tie into a feisty fish on a jig, you'll soon realize the level of addiction involved.

​