​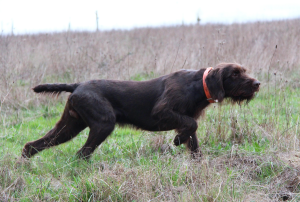 I sat back, inquisitively watching in amazement, as Howard handled his dogs with utmost patience. "C'mon Violet, get in, get in here," Howard encouraged in a soft voice.

Sure enough Violet waded into the water and got into the canoe, on her own. As Howard began paddling across the small river, two other adult dogs followed, swimming by his side. Two pups, eight month old brothers, hesitated at first, but their anticipation mounted the further Howard and the other dogs got.

"C'mon, hop in...C'mon," Howard kept enticing the pups in his calm voice as he and the other dogs continued paddling. Soon both pups were having their first swimming session, part of the training Howard initiates in the spring and throughout the summer.

"The key is not forcing them, but making it fun for them," smiled Howard as he pulled the canoe ashore. The training session lasted nearly two hours, and all five dogs did great, even the pups. During that time, Howard didn't raise his voice one time.

Now is the time to be training your dog for the upcoming hunting season. As is the case with hunters, dogs need to be in shape for the hunt, and just because summer days are hot, doesn't mean dog training should be delayed.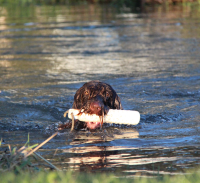 Clear Communication
Good training starts with clear communication. Howard Meyer, a dog trainer I've been working with a lot over the past year, has been training dogs for over 40 years. For 25 years he was a professor of animal breeding and genetics at Oregon State University. Watching Howard patiently work his dogs is something to behold, and his willingness to help me, a first-time hunting dog owner, speaks a lot of what kind of man he is. His eagerness and dedication is addicting, and his passion to see dogs succeed, admirable.

"The older I get, the more I've come to realize you don't need to holler at a dog to get it to do something," shares Howard. "They just need to know what you're expecting of them. If they don't respond the way I want them to, it's likely due to miscommunication on my part."
I've been on several training sessions with Howard and never once heard him raise his voice at a dog. They always respond to him, no matter what the breed or age. Patience and keeping it fun and positive are key elements of Howard's training foundation, and a good starting point for all dog owners looking to build a better dog.
Swimming Lessons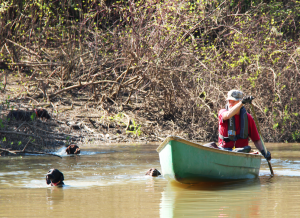 Howard regularly swims his dogs all summer long. "Swimming is one of the best ways to get a dog in shape this time of year, as they don't overheat," Howard notes. "You can't get this kind of conditioning by repeatedly tossing a bumper into the water. In fact, when I'm training with a bumper, I'll only toss it in four or five times, that's it."
Howard's swim training usually lasts a couple hours. He'll paddle the canoe to one shore, let the dogs get out to play and warm up, then do it again..and again...and again. Howard ends every training session on a positive note, with the dogs wanting more, and this includes swimming.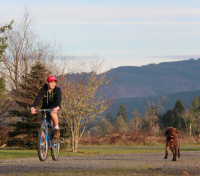 Footwork
Jess Spradley, trainer and owner of Cabin Creek Gundogs offered this advice when asked about summer training tips. "Get the dog's feet in shape," Jess offers. "Just like humans, a dog's feet have to be in good condition for the hunt."
Jess's favorite training surface is gravel, followed by pavement. This time of year, do it early or late in the day, when temperatures aren't overly hot. Be sure to have plenty of water for the dog to drink. Shaving their coat this time of year will also help keep them cool, as will pouring water over them during training sessions.
Don't Mix Play & Work
"Don't mix play and work," Howard advised me. "When training a dog for the hunt, make sure they know it. When playing with them for fun, make sure they know it. Don't use training bumpers as fun toys, and vise versa."

Spradley points out that pointing breeds need to be regularly exercised, while labs are happy with a stroll down the street. Jess prefers to train dogs that have been exposed to a season of hunting, and were taught basic guidelines by their owner. "When they bring a dog to me, I ask what they've done, and they often say, 'Nothing, we didn't want to screw it up.' That's valid, but not a good idea as the pup's gotta learn some basic guidelines in order to achieve a higher level of training."
Gear:
Electronic Collar Objectives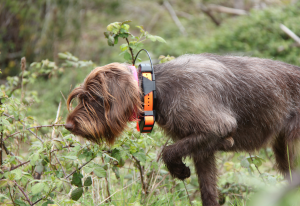 I recently asked two noted dog trainers about their take on e-collars. "I have them on every dog I train," piped one trainer. "If a dog's brought to me and I don't need an e-collar to control it, then that dog doesn't have enough drive."

The other trainer took his answer another direction. "If I have to use the shocking element of an electronic collar to control a dog, then I'm not doing my job as a trainer to clearly communicate to that dog. But, I do use e-collars on all my dogs while hunting, so I can hear the beeps that tell me where they are. We're often hunting two or three dogs in tall cover, and I want to hear where they are at all times."

Electronic collars have their place in the training and hunting world, no doubt, the key is for each dog owner to figure out what functions of these high-tech' devices best suit their needs. With built-in beepers, GPS tracking ability and long-range communication opportunities, e-collars make training and hunting more efficient and the chances of losing a dog, almost zero.

During hot conditions, make the time to start building a good hunting dog. Practice patience, clearly communicate your expectations and make it fun for your dog. When those elements are solid, everything else will fall into place.

​